Squirt Seal Antipuncture Liquid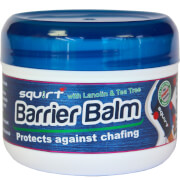 Squirt Seal
The Squirt seal Liquid for road tires, tubeless and Cameras is an imperative that every rider should carry in his backpack when riding the bike. In addition, this sealant is long-lasting and is effective with holes up to 10mm.
The Squirt Seal anti puncture Liquid is available in 4 sizes: 100 ml, 200 ml, 1l and 5l. The quantities to be used for wheel sizes are: 100 ml or less for 26 "wheels, 100 ml for 27.5" wheels and 100 ml or more for 29-inch wheels. On road wheels, the recommendation is 50 to 80 ml.
Features of anti-puncture fluid/Squirt seal Sealant
Availability in 4 sizes: 5 litres, 1 liter, 200 ml and 100 ml.
Perfect for road covers, Tubeless/tubeless ready and cameras.
Fast sealing, long lasting and no pressure loss.
Https://www.youtube.com/watch?v=zOQ5a2LQRB4
* Core Sport Team Company S.L. is not responsible for the failures in the technical specifications or any other nature that affects the products. Check with the final store before making your purchase.