Road Helmet Giro Atmos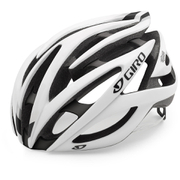 The new model of road helmet that has released the brand Giro will guarantee the cyclist the maximum comfort and safety during the training. The new turn Atmos is a road helmet, designed to enable the highest-performing cyclists to train to achieve their goals.
Features Helmet Road GIRO ATMOS
The new Atmos Road helmet is a protection model that will guarantee cyclists the utmost comfort and protection during the outings with the bicycle.
The helmet shell structure has been designed with polycarbonate and in-Mold technology with EPS structure so that in the event of an accident, the rider suffers as little damage as possible. Thermoformed SL, is a superlight structure made with polycarbonate, which will favor the absorption of impacts in the event of a fall because it acts as a second case and adds resistance.
The helmet Giro Atmos II has 26 channels of aeration for perfect ventilation and that the cyclist can train with Tol confort. This twist-mark helmet model incorporates the ROC LOC 5 locking system for a perfect fit to the rider's head.
In addition
To increase rider protection, the turn Atmos II helmet incorporates an inner Roll Structure reinforcement.
Expert opinion
The modern design of the turn Atmos II helmet shell and the high level of ventilation during workouts will make every rider want to have it with him.
What do we know about the GIRO brand?
The Californian Giro brand was created in 1985 and has been providing high-quality , lightweight products to millions of users of both motorcycling, cycling, skiing and snowboarding around the world.
The mission of Giro is to create cycling helmet s of a great design with the most advanced technology that allows the rider to go out to train with the bicycle with the maximum protection and comfort. Giro uses in its helmets, the Wind Tunnel ventilation system that consists of the active ventilation with the internal channels of aeration that refresh the cyclist by means of fresh air. Giro helmets have been used by cyclists such as Lance Armstrong, Alberto Contador or Cadel Evans in addition to the main UCI ProTour teams.
Giro - Giro Cycling kits available in the CoreBicycleSearcher. Find the best price online with offers.
* Core Sport Team Company S.L. is not responsible for the failures in the technical specifications or any other nature that affects the products. Check with the final store before making your purchase.