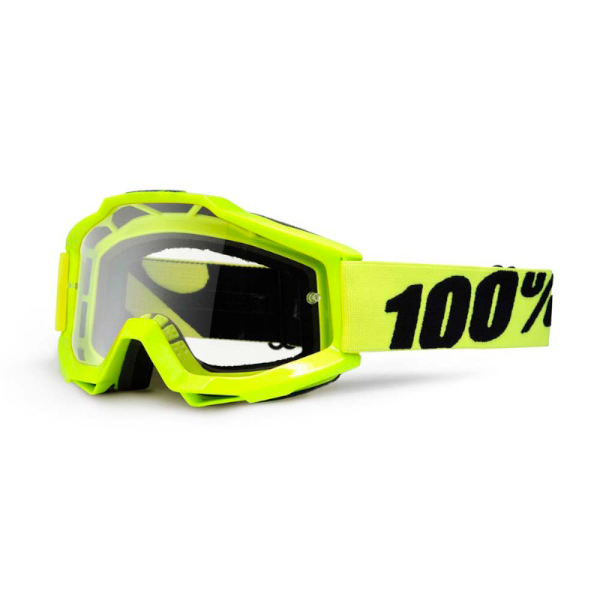 The new goggles 100% Accuri are a model of goggles created by the brand 100% which have been elaborated with the aim of providing the cyclist with the best comfort and protection during the trainings with the MTB Bike. With the new 100% Accuri, the rider will be maximally safe during the routes with the bicycle.
The protective Goggle 100% Accuri, has an anti-humidity treatment to provide a great comfort to the rider during the routes with the mountain bike.
Goggle features 100% Accuri
The new goggles model 100%, the Accuri, are a perfect product for the rider to train in a comfortable way and keeping his eyes well protected from elements such as stones or mud that can splash. This protective goggle has a triple density foam which has been applied an anti-sweat treatment for the rider to have the maximum comfort. The eyeglass mount is made so that it is flexible and resistant at the same time so that the rider has maximum protection during the routes with the bicycle. Thanks to this, the rider will decrease the pain suffered in the event of a fall.
The very elastic and large foam band of 4.5 cm, will contribute to a perfect fasten ing of the protective goggles; This way will give the rider a great comfort during workouts. The Lexan lenses have an anti-fog and anti-scratch treatment to offer the cyclist a large field of vision and that this is not hindered by grated or mist. In addition, the lenses have a mirror effect so that the rider is not affected by the outdoor light on days when it is very strong.
The new glasses 100% Accuri, with compatible with the tear-off system.
Expert opinion
The new Accuri Protection goggle of the brand 100% will provide the rider with the best protection during trainings and/or routes with the bicycle and others always with a great comfort.
What do we know about the 100% brand?
100% is a brand that has always been related to the world of motocross and countless emblematic moments that have created and promoted the basis and history of this sport as we know it today. 100% was created at the beginning of the years 80 when its particular and famous logo adorned the great teams of motocross.
Currently, 30 years later, 100% inspires a new generation of runners.
100% – all cyclingequipment: goggles, gloves and spares of goggle lenses 100% available at CoreBicycle – Compare prices.
* Core Sport Team Company S.L. is not responsible for the failures in the technical specifications or any other nature that affects the products. Check with the final store before making your purchase.
Goggles Goggle 100% Accuri /
100%
From
26.89 EUR
to
89.9 EUR