MTB/MOUNTAIN BICYCLE Knee Oneal Sinner Kevlar for Enduro, All Mountain and Downhill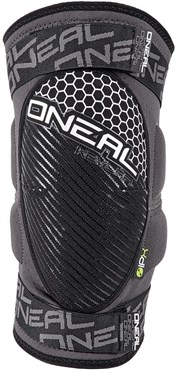 Sinner Kevlar MTB/MOUNTAIN BICYCLE knee pad for All Mountain, Enduro, freeride and DH
The O'NEAL Sinner Kevlar is the brand's new proposal to protect the knees of the riders. Its use is indicated for demanding cycling MTB modes: All Mountain, Enduro, freerid e and downhill. It is a light, flexible and breathable garment that the rider can use at any time of the year on the bicycle. Besides, the aesthetics of this protection is very nice, since it incorporates elements of colors in the body for a more modern design.
Protection system of the knee pads O'NEAL Sinner
They apply Sinner technology inside. Its use manages to reduce the strength of the impacts by 50% without the weight being compromised. In this way, the rider can face the most difficult downhill s with guarantees, focusing only on controlling the bike. In addition, IPXis added, a small piece of soft, flexible material that provides movement to the brace and good pedaling efficiency. Its placement is easily done under the trousers.
Thanks to its solid casing, in case of fall, they stop the force considerably and prevent much of it from reaching the cyclist. Injuries and chance of breakage are considerably reduced with the ONEAL Sinner knee protector.
Other features ONEAL Sinner Kevlar
As we say, ventilation is another of its strengths. The O'NEAL Sinner gets it thanks to a fine tissue with an immediate drying of the sweat. Thus in MOUNTAIN BICYCLE, where the rises and moments of tension generate an increase of the body heat, in the descents and stops there is no cooling. Inside it has a neopren e liner for greater comfort and sensitivity, which offers the possibility of pedaling without friction.
As for the pilot adjustment system, large Velcro strips are very effective. Its drive is very intuitive, and can even start apretártela with comfort. As if it were not enough, they also have anti-skid properties so that the brace does not move from its initial position. Therefore, it is possible to do with them long mountain bike routes.
Finally, its excellent properties and the studied manufacturing process give them durability and a great quality of the fabric that is synchronized beautifully when wheels on bicycle. Shin are included. sizes: S, M, L, XL. colors: Black, black and yellow, black and red, black and white.
Https://www.youtube.com/watch?v=7u4DbLHCk9s
* Core Sport Team Company S.L. is not responsible for the failures in the technical specifications or any other nature that affects the products. Check with the final store before making your purchase.