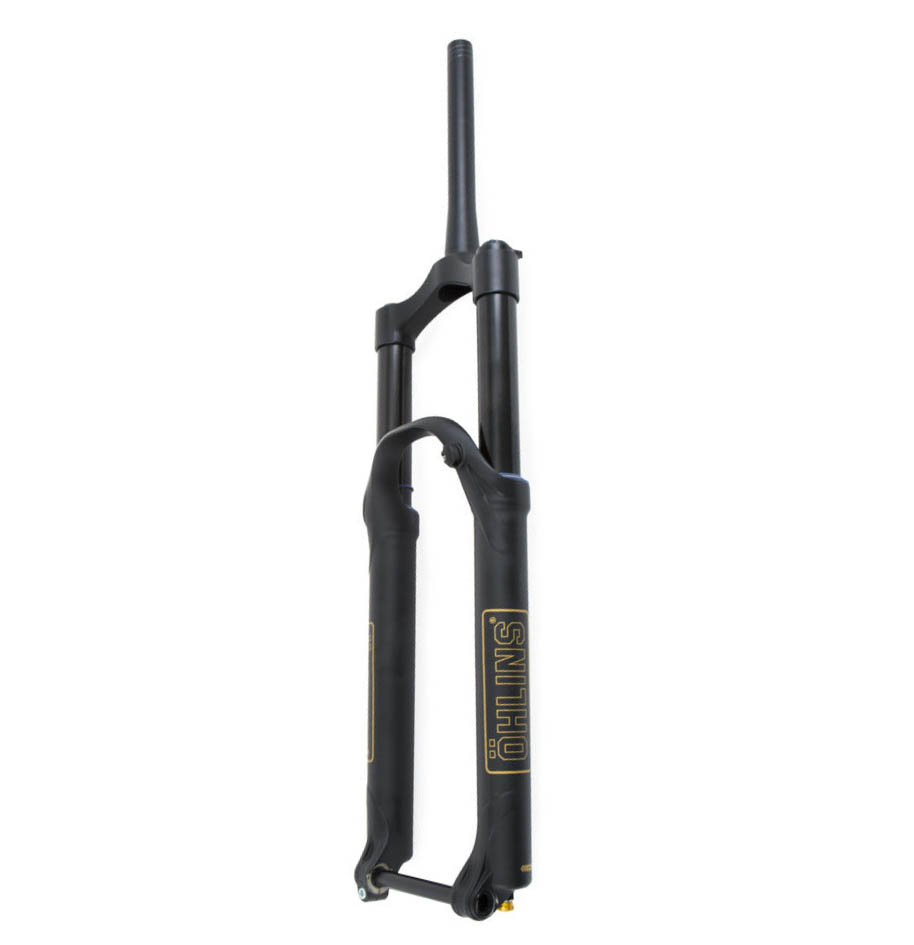 MTB / Front suspension Öhlins RXF 34 and 36 for 29" and 27.5+ (PLUS) wheels - All Mountain and Enduro
The new Öhlins RXF 2017 mountain bike fork is ideal for Enduro, Trail and All Mountain practice. It is available in 2 bars versions: in 34 and 36 millimeters according to the diameter of the bars. In addition, there are different travel ranges (120, 140, 150 and 160mm), so you can choose the one that fits your bike best. It stands out for the integration of the latest technologies, which give it an enviable lightness, rigidity, fit and absorption. So the rider should only worry about enjoying his favorite trails.
Features front suspension Ohlins RXF 34 and 36
First, the Ohlins RXF fork has a sleek and beautiful design; But above all effective. The Low Friction matt black bars have a competitive look, which goes hand in hand with their performance. The steering tube is conical in both the 34 and 36 models, with the crown made by aluminum. The manufacture is made in one piece together the bridge; Which increases stiffness. It is also important to say that it is a model specially made for Specialized bikes like the Camber and the Stumpjumper. However, the cyclist can also ride it on other bikes.
As for the internal operation, its damping is based on an air spring. 3 air chambers, 2 positive and one negative, are used to compensate the internal pressure with much more tact. To this must be added the TTX damping system (Twin Tube) that keeps the oil level constant. Therefore, all this leads to a much more successful absorption. The start of the route is more sensitive, perfect for difficult roads and downhill mountain biking.
In addition, the Öhlins RXF fork incorporates a multitude of reliable and precise settings. Its purpose is to achieve total adaptability to the bike according to the terrain, so that the rider can be demanded to the maximum. The settings are as follows: external rebound, compression speed (slow and fast), full compression with the upper external dial. As a negative note we only find the lack of remote control, but it is compensated with a lower weight.
Finally, both the 34 and 36 versions are for 15mm axles and for 29-inch or 27.5+ wheels. They differ in that in the thin version has a recoil of 46mm and the large a 51 advance. In short, a light and resistant suspension that will delight cyclists thanks to its absorption and transfer of power in demanding cycling disciplines Like All Mountain and Enduro. Weight: consult manufacturer.
* Core Sport Team Company S.L. Is not responsible for the failures in technical specifications or any other nature affecting the products. Check with the final store before making your purchase.
Fork ÖHLINS RXF 34 and 36 for 29" / 27,5+ wheels - 140/160 mm BOOST /
Ohlins
From
1,090 EUR
to
1,190.9 EUR