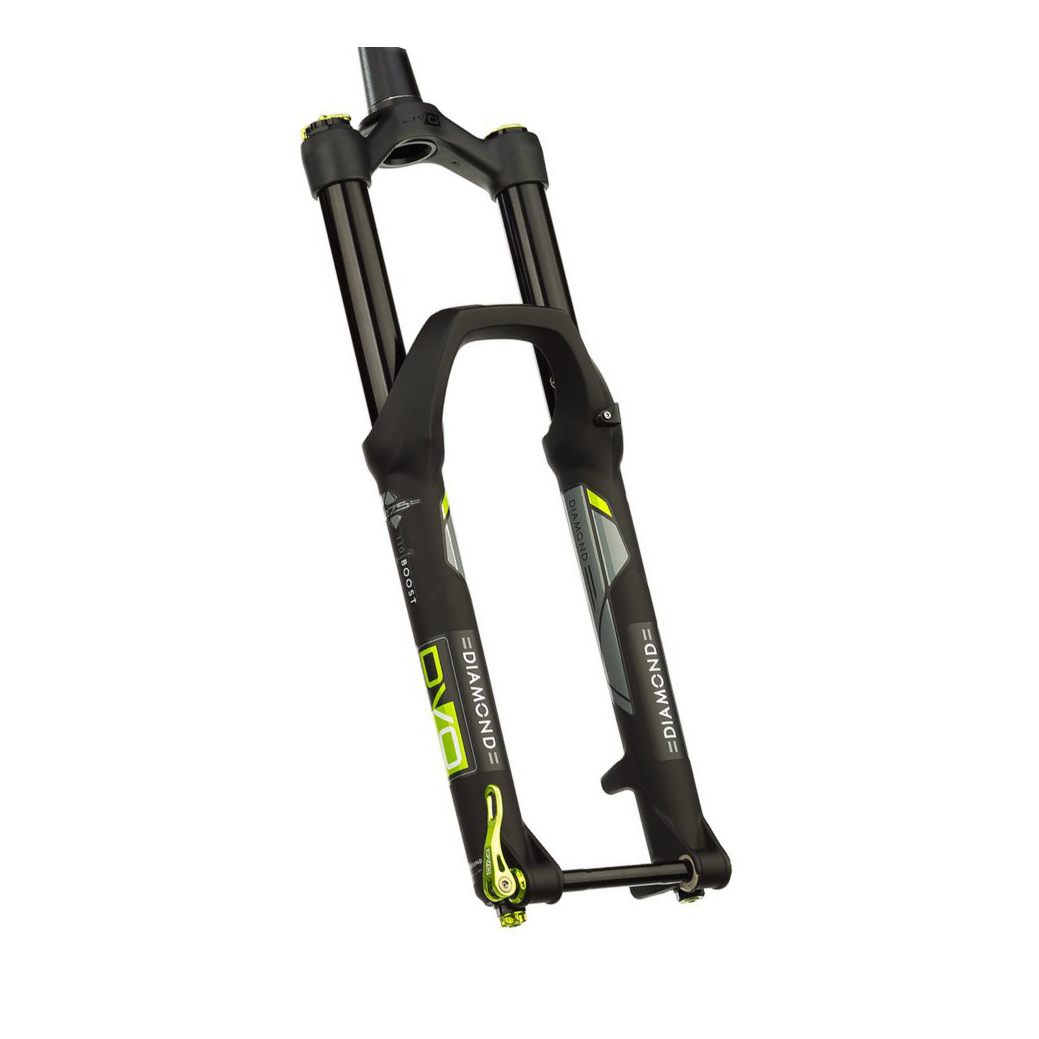 Fork DVO Diamond 2017
The new Diamond Fork that has released the brand DVO is an element that guarantees you the necessary performance in the downhill in a trail fork. This fork model has a travel between 140 and 160 mm with cranksets of 36 mm. These measurements, along with the compression cartridge, the dynamic adjustment capacity and the adjustable negative spring make it the perfect model of enduro and trail fork.
The DVO Diamond Fork features compression, rebound and preload adjustment and has been developed for use in All Mountain/Enduro bikes with size .5 "wheels. In addition, this fork has a conical diameter of 1.5 "-1" 1/8 of handlebar bar end. This fork does not include the pump or any locking system.
During the production of this Diamond-branded fork, the OTT technology has been used which will be responsible for the activation of the fork.
Technical Specifications Fork DVO Diamond 2016-2017
Suitable fork to be used in the modalities of Trail, All Mountain and Enduro.
It has compression adjustment, preload adjustment and reboundadjustment.
It does not incorporate any blockage or pump.
It has a hydraulic part that will reduce the amount of oil and keep the suspension.
Single chainring and air cartridge.
Fork Travel between 140 and 160 mm.
15 mm front wheel shaft.
Handlebar bar end Diameter: 1.5 "-1" 1/8.
Fork Cranksets Diameter: 35 mm.
Weight: ,000 grams
What do we know about the DVO brand?
The DVO brand is a company dedicated to the manufacture of forks and suspension that is headquartered in the United States. This prestigious brand is based on the design and elaboration of everything related to the world of suspension. The DVO brand has more than 80 years of experience in this sector. The DVO brand produces shocks, as well as spare parts and springs of these, forks with their corresponding spare parts, as well as elements of protection of the fork.
Thanks to the manufacture of its products through high quality materials, high-end elements are achieved.
* Core Sport Team Company S.L. is not responsible for the failures in the technical specifications or any other nature that affects the products. Check with the final store before making your purchase.
DVO Diamond Fork for Enduro and all mountain/2017-160 mm - 27.5 "and 29" /
DVO
From
584.35 EUR
to
939 EUR