Handlebar Renthal FatBar Lite Carbon: Lite for Enduro/trail/XC-limited edition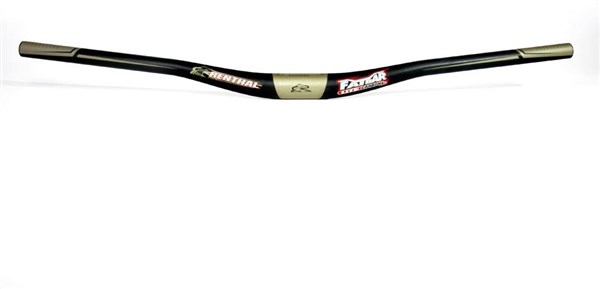 Handlebar Renthal Fatbar Lite Carbon-Limited edition
The Renthal Fatbar Lite Carbon Handlebars Limited Edition is the so successful Renthal Fatbar Lite handlebar designed for the Trail, the Enduro and the for riders and runners of modalities like XC (Cross country/rally) that has been manufactured in the Tan Characteristic gold of the brand of Renthal handlebars and makes it more exclusive by having a more limited manufacturing process in number.
This handlebar maintains the same characteristics as its namesake (handlebar Renthal Fatbar Lite Carbon): Incredibly light (with only 180 grams) and a length of 740 mm and up to four options height measurements (10, 20, 30, 40mm rise options). This new handlebar is the indisputable leader, currently, market in terms of weight properties, resistance and most importantly the "transmission" of the sensations of Riding to cyclists. The diameter of this handlebar is still 31, 8mm. At the moment, the Renthal FatBar Lite carbon handlebar is the last and lightest handlebar tested for trail.
Main features of the handlebar Renthal Fatbar Lite Carbon - Limited edition
Made in carbon
Perfect absorption of vibrations and shocks
Length: 740 mm
7 degress backsweep/5 degress Upsweep
Possible heights: 10, 20, 30, 40mm rise options
Handlebar Diameter: 31.8 mm
Has passed all standard test in BMX drop
What do we know about the Renthal brand?
Renthal is a UK manufacturer that designs accessories for motorcycles and bicycles, including handlebars, chainrings, grips and other components. Its "collaborations" or manufacturing for Honda, Kawasaki, KTM and Suzyki with specific handlebars for all terrain motorcycles (motocross) was the definitive impulse of this brand in the component market.
Rental was a company created in 1969 by a groupset of Friends motocross lovers, Andrew Renshaw and Henry Rosenthal, currently both are the technical and commercial directors, Respecitvamente, of the company.
The name of Renthal is Deriba of the Union of its two surnames (RenShaw and RosenThal). The first design of this company was a handlebar prototype that Rosenthal designed and Frabricó for his own trial bike; This prototpio was manufactured in H14 aircraft aluminium. After this prototype, the two creators began a small line of production of small-scale handlebars as neither had a chance of full-time dedication to the company.
In 1990, it was when Renthal opened its first manufacturing and sales office in the United States aided by a young entrepreneur named Jim Hale.
Its acclaimed success since then, has been what has allowed the last years the brand Renthal manufacture handlebars, grips and chainrings for the specific market of cycling.
* Core Sport Team Company S.L. is not responsible for the failures in the technical specifications or any other nature that affects the products. Check with the final store before making your purchase.