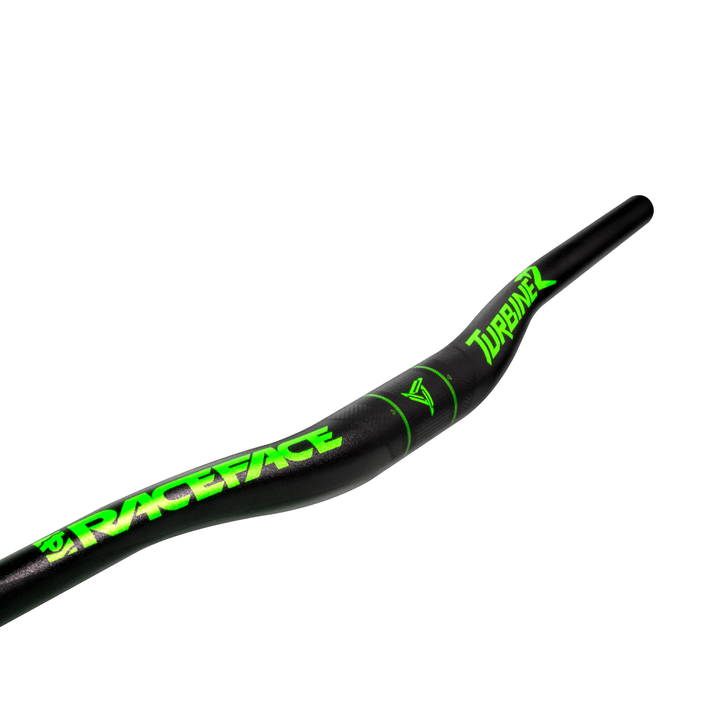 Handlebars for MTB/MOUNTAIN BICYCLE/mountain Bike Race Face Turbine 31.8 mm x 720mm
The 700 mm Turbine handlebar will keep you low and fully in control. With a rear inclination of 8 degrees and 240 g of weight, this handlebar will provide you with all the speed you need. Ideal for 29-inch-29er wheel bikes!
Made from 6061 aluminum without seals, cold drawn and shot blasted to increase fatigue resistance.
In addition, its variable sections create an optimal ratio between resistance and weight and result in a sturdy but light handlebar.
The logo has been stamped by thermotransference to achieve an incredible appearance.
Features of Race Face Turbine handlebars
Made from alloy 7075 T6 Cold drawn
Light enough for Cross Country but sturdy enough for All Mountain
Blasting to increase the lifespan of fatigue resistance
Suitable for MTB/Mountain Bike: XC (Cross Country) and Trail
Handlebar Diameter: 31.8 mm
Weight: 170 g
Elevation: 0 º
Backward Tilt: 8 º
Width: 720 mm
Weight: 240gramos
Dual-height Race Face Turbine Handlebars
This full suspension-height handlebar (10mm or 20mm) and a 35mm thickness makes the pleasures of the most demanding XC riders and trails.
The Race Face Turbine is now bigger, wider and lighter. The handlebar extends with a length of 760 mm and also has a diameter of 35 mm in the center. This allows Race Face to save material and reduce the overall weight of the handlebar.
Full suspension height Race Face Turbine handlebars for MTB/mountain biking/Ciclsimo (35 mm)
Manufacture from 7075 aluminum
Design of 35 mm optimized triple-thickness variable
Suitable for: Cross Country, Trail
Dimensions: 760 mm wide
Elevation: 10 and 20 mm
Weight: 270 g
Handlebar Diameter: 35 mm
Full suspension-height handlebar (0.75 ") MTB Race Face Turbine
Inidcado for Cycling modalities: Cross Country, Trail, All Mountain
Dimensions: 725 mm, 9 ° backward, 6 ° upward
Elevation: 0.75 "(approx. 1.9 cm)-20mm
Handlebar Diameter: 31.8 mm
Weight: 290 g
Made from 7075-T6 aluminum cold drawn and shot blasted to increase fatigue resistance (wear that can cause rupture by use). This handlebar maintains an optimal balance between resistance and weight, so it will allow the rider to get a sturdy but light handlebar
All Race Face bike handlebars are available in the CoreBicycle Searcher. Find the best price online with offers.
* Core Sport Team Company S.L. is not responsible for the failures in the technical specifications or any other nature that affects the products. Check with the final store before making your purchase.
MTB Race Face Turbine Handlebars /
Race Face
From
49.99 EUR
to
125.95 EUR