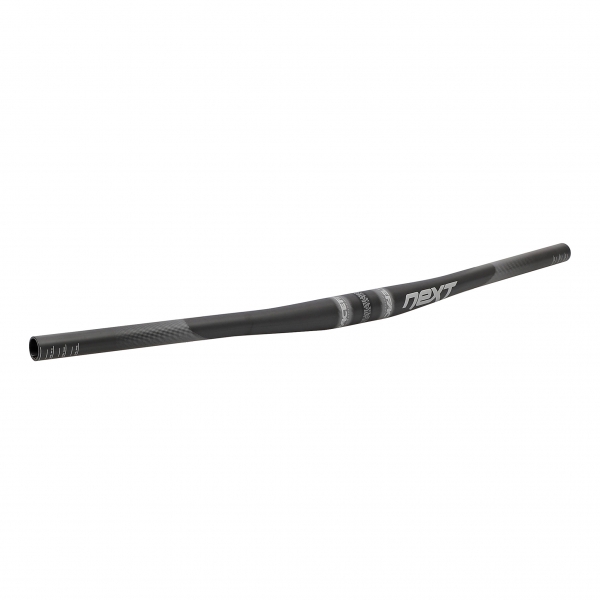 MTB Race Face NEXT handlebar
The Race Face NEXT Mountain Bike handlebar manages to elevate the stiffness and lightness of a component to an optimum level. The diameter of the bar has been increased to 35 millimeters. Thus, the cyclist's comfort becomes the most important thing, without sacrificing the rest of the benefits. It is also characterized by a discrete full suspension height that helps to improve the position of the pilot without being an exaggeration. The following two models stand out: The Race Face next R 35 and the next 1/4 "Rise.
Full suspension height handlebar Race Face NEXT 35
It is available in two different heights: 10 and 20mm. So you can choose the one that best suits your flexibility and goals as a rider. It possesses a width of 760 mm, which permits good manioabrilidad without sacrificing weight. It is made with carbon UD with a matte finish, which gives it a very nice aesthetic. Moreover, among its properties also highlights the elasticity, giving control in bumpy roads. Its use is recommended for the modalities of Rally and Enduro.
Dimensions: 760mm wide, 8 º backward, 5 º upward.
weight: 128 grams.
Handlebar Diameter: 35mm.
MTB Race Face NEXT handlebar
Made with uni directional carbon fiber and the best technologies, the result is incredible. During the elaboration process the most demanding tests for mountain biking, including Downhill ones, are exceeded. It incorporates a reinforced antisquash zone, which drastically reduces a possible rupture in the area of the power, which is where more stress occurs. Suitable use for XCdisciplines, All Mountain. It allows a sporting posture as it barely has elevation.
Diameter: 31.8 mm.
weight: 175g.
Inclination: 8 º Back, 4 º above.
width: 725mm.
Race Face
– All Race Face bike handlebars available in the search engine and price CoreBicycle. Find the best price online with offers.
Https://www.youtube.com/watch?v=XoYr2He4a-g
* Core Sport Team Company S.L. is not responsible for the failures in the technical specifications or any other nature that affects the products. Check with the final store before making your purchase.