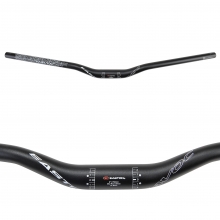 Easton HAVOC 2017 MTB handlebar – aluminum and carbon
The new HAVOC handlebar s presented by the Easton Cycling brand are a type of component that has great rigidity and solidity. The range of HAVOC components are the most resistant series of Easton Cyclin because it is specially designed for the most extreme cycling disciplines. This is because the practice of downhill /downhill cycling requires components with these characteristics and withstand the impacts that the bikes receive in this gravity mode.
The Taperwall technology used during the manufacture of the Havoc handlebars 31.8/35 in the version of aluminum and carbon, allows that according to the area of the handlebar, we find areas with more thickness or less. Thanks to this, the Easton HAVOC handlebar will have more resistance where it is most necessary because during the riding, the energy of the impacts are not received equally at the ends of the handlebars that in the center.
Easton HAVOC Aluminium MTB Handlebars – 31.8 mm 2017
Height: 20/30 mm
Recoil: 9th
Elevation: 5 º
Width: 750 mm
Diameter: 31.8 mm
Material: Aluminium EA90
Weight: 315 grams
Easton HAVOC Aluminium Mountain Bike handlebar 2017 – 35 mm
Height: 20mm
Recoil: 9th
Elevation: 5 º
Width: 800 mm
Diameter: 35 mm
Material: Aluminium EA90
Weight: 300 grams
Colors: black, silver or green
Easton HAVOC MTB Handlebar Carbon 2017 – 31.8 mm
Height: 20mm
Recoil: 9th
Elevation: 5 º
Width: 750 mm
Diameter: 31.8 mm
Material: Carbon EC90
Weight: 235 grams
Easton HAVOC Carbon – 35 mm – downhill bike handlebar 2017
Height: 20mm
Recoil: 9th
Elevation: 5 º
Width: 800 mm
Diameter: 35 mm
Material: Carbon EC90
Weight: 220 grams
What do we know about the Easton Cycling brand?
The Easton Brand is a company born in Los Angeles, California (United States) in the year 1984.
Since its inception Easton has highlighted in the world of cycling by applying the best technology in all its components. The flagship product has been and continues to be the bicycle wheels.
During the first years the American brand began making great innovations in the wheels for the practice of road cycling. But his desire for improvement and innovation in all fields, made him quickly enter the world of Mountain Bike.
That's why Easton currently has specific wheels for all MTB disciplines such as: XC, all Mountain, DH and Freeride, plus all available in different inch sizes.
To highlight in the design and creation of Wheels Easton has a team of highly qualified engineers destined to the search of the best material to make a light and sturdy wheels at the same time. Today aluminum and carbon are the most used elements to create the wheels, but Easton does not stop in the attempt to find new alloys that improve the performance of their products.
* Core Sport Team Company S.L. is not responsible for the failures in the technical specifications or any other nature that affects the products. Check with the final store before making your purchase.