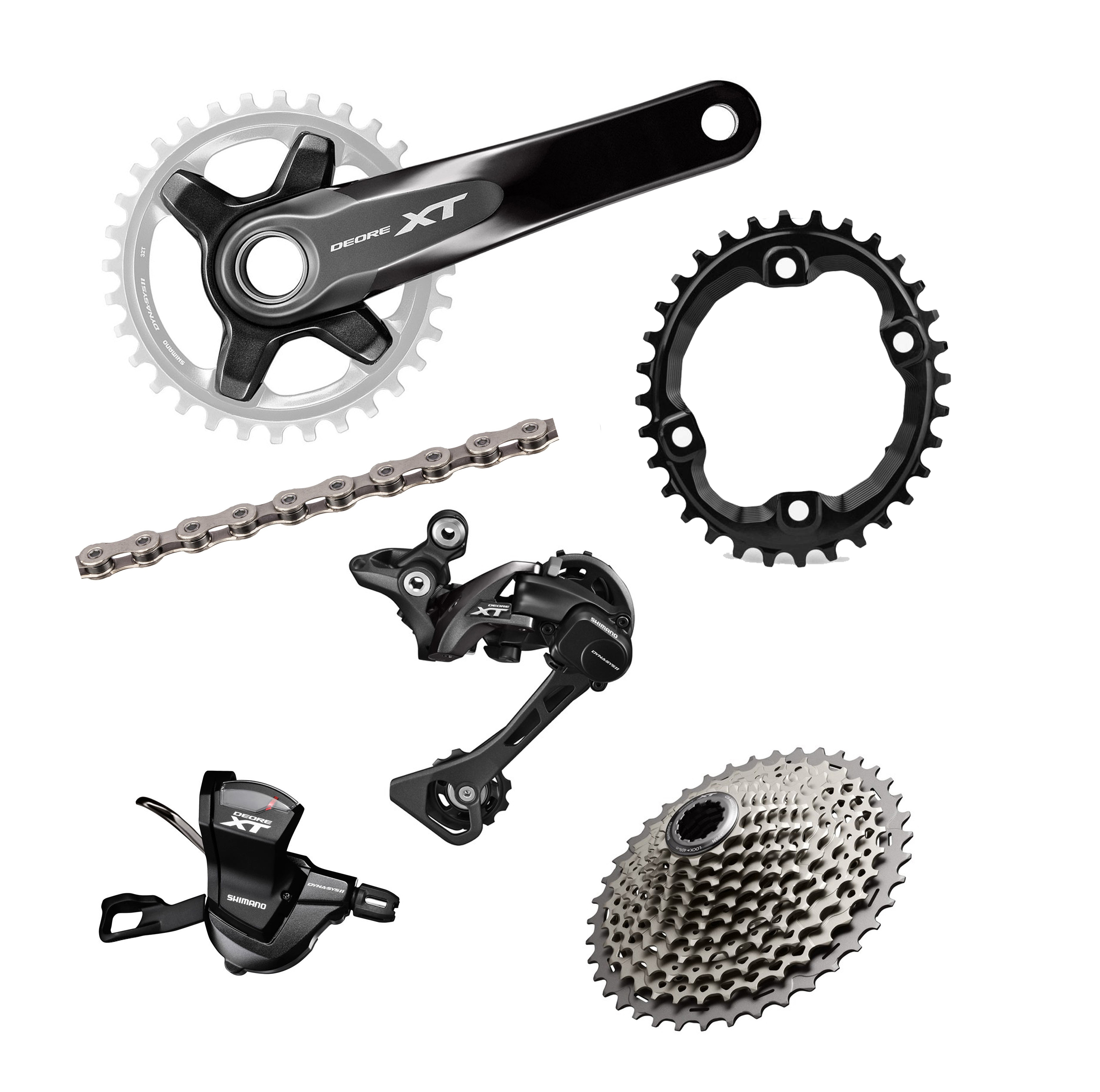 The Shimano XT M8000 1x11 Oval Groupset is ideal for expert XC, All Mountain or Enduro users who want to get the most out of their mountain bike outings. It maintains the general characteristics of the XTR groupset at a more affordable price, although a "rung" below as far as weight is concerned.
By excluding the second dish you get a cleaner and more efficient transmission: they eliminate the so annoying chain outputs (sometimes it may be necessary in enduro and all mountain modalities, where the chain vibrates more, add a top chain guide ). As there is no front derailleur or other chainrings the weight decreases. The teeth of the chainring have been lengthened with more tip to prevent the chain from skipping and not being fixed. The highlight of this groupset is that it adds an oval design for the dish: Oval.
What is the functionality of the oval chainrings?
The oval chainrings began to be present thanks to road cycling; Many of the last Tour de France winners took them. Its main function is to get a round pedaling. The oval shape causes the dead spots of the ride to be eliminated, up and down. This allows you to have a pedalling performance plus in slow and technical areas that will allow you to overcome them more easily. They are also interesting to avoid injuries, as their spin is smoother.
The Shimano XT M8000 1x11 crankset are one of the lightest on the market with enviable stiffness. In addition its finish is matte black.
The change Shimano XT M8000 1x11 is precise and smooth, very easily by pressing the levers that are transferred immediately to the rear derailleur. This incorporates the Shadow + technology that prevents unwanted movements of the chain and makes the tension constant. Its execution is quick and easy and its design leaves anyone speechless.
The cassette/sprocket has increased its number of sprockets to 11, but maintaining its total thickness, allowing the weight to continue low. The chain has had to be redesigned: it has been narrowed in order to fit into the new structure.
The Shimano XT M8000 1x11 Groupset includes:
Absolute Black Oval dish available in black/red color and 30, 32, 34 teeth.
Rear derailleur with Shadow + and short-leg technology.
XT chain 11 speeds.
Cranksets of 165, 170, 175, 180mm.
Cassette in 11-42/11-46.
11 SPEEDS XT shift controls.
Shimano XT M8000 1x11 Oval Groupset 2017 /
Shimano