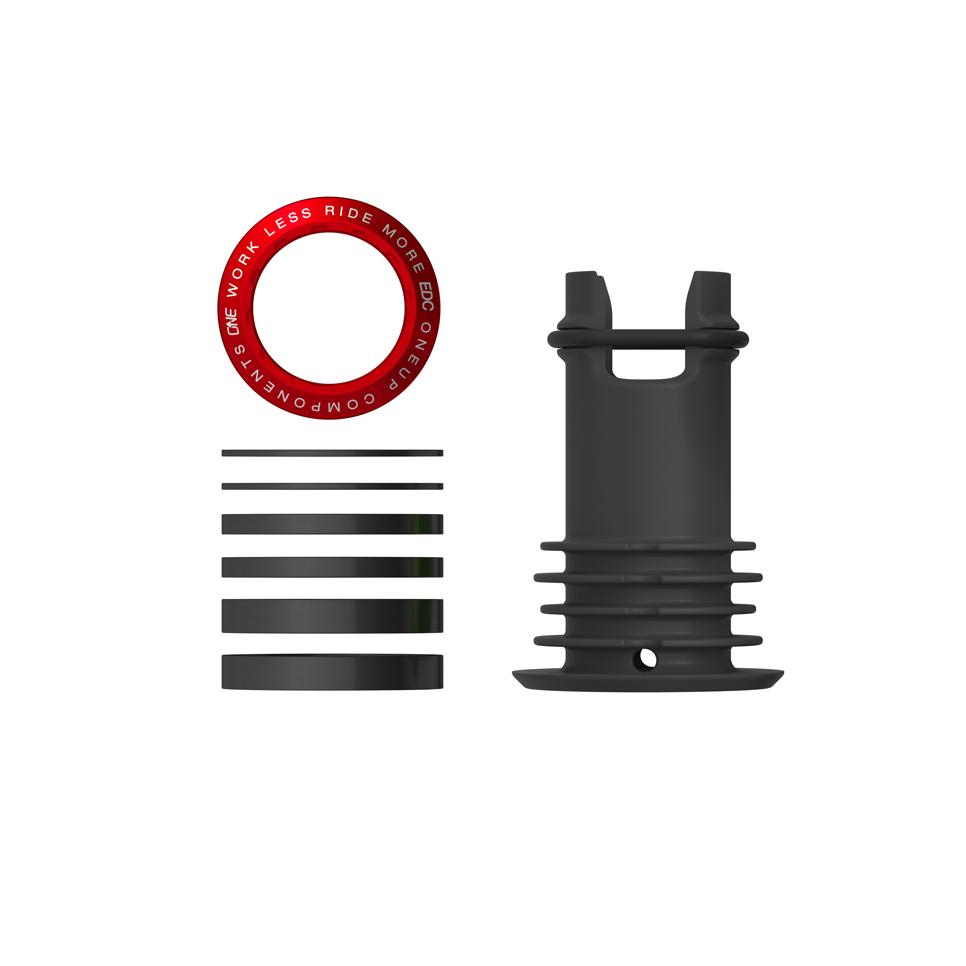 Rear derailleur pin Replacement-OneUp components
It is fashionable changes in color and improvement in the components of our bikes and this time the young Canadian brand OneUp Compoments, we offer to acquire the spare of the rear derailleur of the pin for the change in colors of the most current!.
Brand OneUp Components do you know the young brand of riders from Squamish?
... 42T sprockets compatible with Shimano and SRAM transmissions 1 × 10 and × 10. Besides sprockets for 1x10 (16T, 40T, 42T) and 1x11 (44T – SRAM-and 45T – Shimano-), chainrings (round and oval), rear derailleur spare pins, gravity and DH nuts Adapter (9-10 speeds to 6-7 SPEEDS).
What do we know about the ONEUP components brand?
OneUp Components is a company born of a small team of MTB enthusiast s in Canada (Squamish, B.C. Canada). In his own words: "Wemanufacture the products we want for our own bicycles. We are dedicating our efforts to offer a great value of functionality and design, the one that all rider looks for in its components".
OneUp was founded by Chris, Jon and Sam; They all came from the Race Face engineering team. Together they add a 22-year experience in the world of the cycling industry and have developed many of the products that have been recognized most and have won more prizes within the world of cycling components.
According to their own philosophy: "Lately, everyone should work less and ride more. We are not at this point yet, but we are glad to be able to collaborate in the bicycle component progress industry so that MTB lovers can enjoy it and take this philosophy out. "
In addition, this young Canadian company donates 1% of the profits of its sales to non-profit organizations in which they themselves believe.
This brand, currently, focuses on the manufacture of sprockets for 1x10 (16T, 40T, 42T) and 1x11 (44T – SRAM-and 45T – Shimano-), chainrings (round and oval), spare pins of the rear derailleur, gravity and chainring.
One of the first components of "one Up components" has been a 42 tooth pinion compatible with Shimano and SRAM 1 × 10 and × 10 Transmissions. It is made of high quality aluminum (weighing 51 gr) and is designed for use on 10 speeds cassettes. This sprocket is a real alternative to users who are looking to move to the XX1 or X01 without making an important expense (if all parts of the SRAM groups are acquired). With this option you don't have to change many parts of the transmission.
If you want to add the pinion of 42 teeth to the cassettes, the first thing to do is to remove the "sprocket", remove the pinion 17 teeth and incorporate the 42 teeth of One Up. In this process we will have to be careful and place the spacer correctly if we are mounting in a Shimano or SRAM cassette. It will also be necessary to check the tension of the chain, because it is more than possible that we should increase in some link our chain, to avoid that the rear derailleur is too stretched.
This OneUp components Sprocket is compatible with most of the 10-speed rear gearbox and the following cassettes:
Shimano
XT model CS-M77 with 11-36 development
XTR model M980 with 11-36 development
Sram
X5 Model PG-1030 with 11-36 development
X7 Model PG-1050 with 11-36 development
X9 model PG-1070 with 11-36 development