Sportful Giara - jacket, waistcoat, Jersey, short, gloves and cycling shorts (men and women)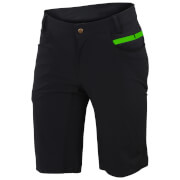 Sportful Giara-jacket, waistcoat, Jersey, bib shorts, gloves and cycling shorts (men and women)
Sportful GIARA OVERSHORT/bibshort Covers
The new Cubrepantalones GIARA that presents US sportful is ideal for the more adventurous riders looking for new routes and trails with the bike. With a clean and simple design and made of elastic fabric in 4 directions. The flexibility with which these trousers have been endowed will guarantee the cyclist a great freedom of movement on the bike.
The DWR technology used will repel water and mud, thus preventing it from sticking to the trousers. In addition, this cubreculote has great breathability and ventilation.
Manufacturing Materials: 29% polyamide (nylon), 6% elastane, 65% Polyester
Body-trimmed and flexible 4-way cut
2 zippered front pockets and 2 Jean-Style Pockets
Reflective Details
Colors: black, black-orange, black-green, blue
Sportful GIARA W OVERSHORT
Sportful GIARA W SHORT
Cycling Shorts Sportful GIARA
Straps made of grid fabric
Great freedom of movement on the bicycle.
Very refined and simple style.
Silicone inserts at the end of the leg to improve the adjustment of the bibshort avoiding so move.
Flat seams for greater comfort.
Very comfortable BodyFit Pro.
Incorporates reflective details for greater safety.
Available colors: black, black-orange, black-green, black-blue.
Sportful GIARA Cycling Jacket
Jacket sportful GIARA SOFTSHELL Jacket
Sportful GIARA W Women's jacket-cycling
Sportful GIARA Short sleeve cycling jersey
This short-sleeved sweater that presents US sportful stands out for having a very simple and fine design very elegant but very demanding ideal for the most aggressive riders.
In the upper part has been used polyester fabric in order to equip this shirt with a touch more sophisticated while breathable.
Casual cut but that will easily adapt to the body of the rider.
3 back and 1 zippered pockets
Reflective elements.
Colors: garnet/Bordeaux, black, grey, blue
Sportful GIARA W Short jersey
With a cut specially designed for women cyclists, this ergonomic jersey provides the best comfort and stamina but with a plus of elegance and Sophistication.
In the back, a zippered pocket has been added to avoid losing any object stored in it. maximum freedom of movement and comfort on the bike. In addition, find it available in blue and gray color.
Sportful GIARA WARM TOP long Jersey
Sportful GIARA Vest
Sportful Sporty GIARA THERMAL
Sportful Socks GIARA 15
Sportful GIARA Arm Grips/heaters
Sportful GIARA Gloves
Sportful GIARA Cap