Santini Ringtone 2.0 - Short sleeve jersey and road cycling shorts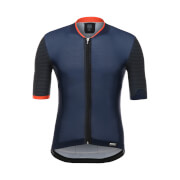 Santini Ringtone 2.0 - Short sleeve jersey and road cycling shorts
Cycling Jersey with Short Sleeve Santini Tone 2.0
This short-sleeved model offered by Santini has a body-tight cut allowing at the same time a great freedom of movement on the bike. In addition, the structure of the jersey also favors aerodynamics.
The arm warmers have been made with very light and resistant BodyFit fabric. Also noteworthy is its high capacity of breathability thanks to the use of the Sesia Micromesh that will create an internal air flow.
Colors available: Yellow, black, red
Sizes: S, M, L, XL, XXL
Santini Tone 2.0: Short shorts with road pads
The 2.0 ringtone is manufactured with the innovative New Monica material. On the internal side has a silicone band to adhere perfectly to the skin creating a "tattoo" effect and also allowing maximum freedom of movement. For this has also been used Thunderbike Power fabric that provides an extra durability without losing flexibility.
The pad that features the 2.0 tone cycling bib is the next anti-impact gel-core NAT. In this way the rider's comfort and protection will be increased on the bicycle.
Colors available: Yellow, black, red
Sizes: S, M, L, XL, XXL