Santini GIADA for women - cycling shorts, short sleeve and sleeveless jersey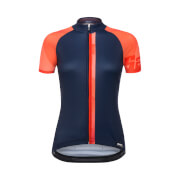 Santini GIADA - cycling jersey, sleeveless jersey and bib shorts, gloves and socks
This new collection that gives us the Santini brand for female road cyclists, can be found available in the colors blue/turquoise, orange and lilac/violet
Santini Giada Short Sleeve Jersey
This short-sleeved jersey of the Santini brand has been manufactured with high quality material with the aim of achieving a very comfortable model with a good ventilation system. This fabric also has a high resistance to abrasion, which will increase its durability.
Inside the waist area has been added silicone inserts that will keep the jersey in place during the cycling sessions.
Santini Giada Sleeveless Jersey
This Santini cycling jersey model features a high performance structure/cut specifically designed for female anatomy. In this way, the maillot adapts perfectly to the woman's body, providing at the same time the maximum freedom of movement and comfort in position.
The Energy microsense fabric used makes the jersey an ideal model for hot summer days. This material, notable for its high lightness and breathability, two very important terms in cycling sport wear-clothing, especially in times of heat.
Santini Giada Cycling Shorts
Made with functional lycra Thunderbike very elastic and light at the same time as slightly compressive. With this Santini firm's, freedom of movement is guaranteed.
The anatomical cut of the Giada buttocks makes it perfectly suited to the woman's body. Likewise, to increase the comfort on the bicycle, the seams have been reduced and, consequently, the so annoying chafing.
Cycling Short Gloves Santini Giada
Cycling cap Santini Giara for women
Socks Santini-Woman
Https://www.youtube.com/watch?v=wPeLs5Wyi0I