Santini ACE - Cycling shorts and cycling short sleeve jersey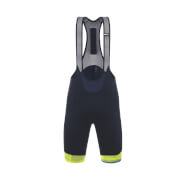 Santini ACE - Cycling shorts and cycling short sleeve jersey
Cycling shorts Santini Ace
This Santini ACE Bibshort is a very elastic model made with high quality fabric that offers greater durability. Its so ergonomic cut guarantees the best comfort and freedom of movement on the bicycle. Flat seams will prevent chafing, irritation or abrasion.
The that uses this model of is the GIT Evo with Twist anti-shock gel core that will keep the rider cool at all times.
Non-slip tweezers on the legs.
Manufactured with Lycra Thunderbike Power.
Breathable mesh Grids
Cycling short jersey Santini Ace
The Santini ACE short sleeve jersey has been made with the same fabrics as the official UCI rainbow jersey. This model stands out mainly for its lightness, comfort and aerodynamics.
In the front and sides has been used microfiber fabric providing a plus of lightness and smoothness. In addition, on the back and shoulders has been added Cyber-Rider fabric absorbing moisture.
Three pockets in the back area.
More elongated on the back.
Elastic waist.
Fullface zipper on the front.