FOX INDICATOR Long sleeve MTB jersey - and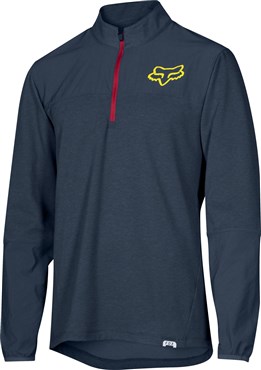 MTB FOX INDICATOR MOTH Long Sleeve T-shirt
Fox 's new long-sleeved jersey Indicator is a high quality model in the fabric of manufacturing. It is ideal for riders who want a garment with guarantees and long life. Its attributes reside in a spectacular aesthetic, with various designs and high performance in any meteorology. On the other hand, we are in front of a MTB shirt with urban fashion lines, so that its use is not exclusive on the bicycle.
A large part of the achievements of the mountain bike Fox Indicator T-shirt is its Trudrifabric. It is a compound that has been developed in collaboration with the best experts and tested in depth. It is very breathable and allows to quickly evacuate the sweat of the body. In this way, the evaporation is accelerated, keeping the cyclist at all times dry. This point is important when it comes to remarking the comfort of this garment, well above others in the market.
The fit of the jersey is sublime, the long sleeve cover the entire arm for a feeling of incredible comfort. The bust and rest of the body is loose, but without becoming excessive. Thus, a good combination between subjection and freedom of movementis achieved, perfect for descents and technical areas that require manioabrilidad. In short, the FOX brand defines this mix as Trail.
Other details to consider when choosing the Indicator are: your reflective insert s to allow greater vision to other users, and therefore greater security. Besides, the ventilation level varies according to the area involved; On the sides and the rear their panels are larger caliber. As for the neck, you get a clean finish and without just seams. Finally, it incorporates a hidden pocket, useful for carrying documents and precious objects. Available colors : Black, grey, red and yellow.
Features long sleeve jersey Fox Indicator MOTH
Made with TRUDRI polyester fabric.
Jersey's Trail cut.
Incorporates reflective details for greater rider safety.
It has a hidden pocket.
Excellent moisture absorption capacity.
Very light and comfortable.