Kit Cannondale Pro Cycling Team-Castelli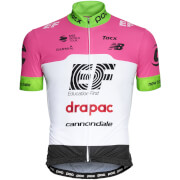 Equipment Cannondale Pro Cycling Team by Castelli: jerseys and shorts
Castelli is one of the official sponsors of the Cannondale Pro Cycling team and is the supplier of this equipment.
Castelli has used the competition to develop the most innovative sport wear-clothing looking for maximum performance. The Cannondale Pro Cycling Team has been very successful in achieving enviable results throughout the more than ten years of history.
The team has won stages in each Grand Tour, Paris-Nice and Tirreno-Adriatico, the general classification in the Giro d'italia, Critérium du Dauphiné, among others.
since 1876, Castelli is the brand of the cycling champions. The runners have dressed the rainbow of world champion, in the Tour de France have taken the yellow, the green and the mountain and have triumphed the three great turns classic: tour, the turn and the Giro.
All based on product development and with a clear focus on innovation and design.
Discover everything you need to know about the Castellí brand in the CoreBicycle Cycling product searcher.
What do we know about the Cannondale brand?
The brand of bicycles Cannondale manufactures all its models in Taiwan but are assembled in the United States. Hence the brand is proclaimed with American nationality.
This great brand takes years dejánsose noticing with the development of frames very equilibridos (for mountain) that assembles forks (front suspensions) of a single bar: the Lefties. Although aesthetically it was something that "collided" in the market of cycling when they appeared, a few years ago, right now it is more than proven its performance since they continue being bicycles winning of great prizes.