Alé Sepeed Fondo 2018 - socks, short-sleeve jerseys and shorts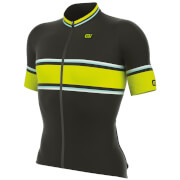 ALÉ Bike Collection SPEED Fund 2018: Jersey, jacket, shorts and socks for road and MTB cycling
Short sleeve jersey Alé Speed background
This short-sleeved T-shirt is the key piece in terms of high performance and aerodynamics. This jersey model is fully compatible with racing/competitions and daily workouts.
The Alé Speed Fondo short sleeve jersey has the arm warmers a little longer respect to the standard size and features Mesh Dragon treatment. In addition, both front and rear, soft Push Pull fabric has been used to ensure a quick drying of sweat.
Jacket ALÉ Speed Fondo 2018
The new mens cycling jacket Alé Speed Fondo stands out for its high protection against wind and water at the same time to be a very breathable model.
Read More