ALÉ Rumbles cycling collection for women: jacket, Jersey, shorts and socks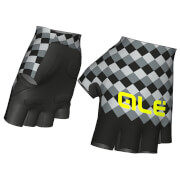 New collection ALÉ Rumbles : Jacket, short/long jersey, short/long shorts, socks
Long sleeve jersey Ale rumbles (road and MTB)
The new Ale rumbles has been designed with a more functional and current improved pattern. Its line of colors, fine at the same time as cheerful makes it a very feminine garment.
In the back has been added 3 pockets and one reflective zipper; It also incorporates reflective details that will increase rider protection on the bike. In the waist area, this jersey has eL J-stability system, a technology that will keep the T-shirt in place.
Short sleeve jersey Alé rumbles-for women
This women's jersey model is perfect for riders looking for a professionally cut garment to compete. The Ale Rumbes short sleeve jersey has been manufactured with high quality fabric ensuring the best performance on the bike.
The strengths of this women's cycling jersey are:
4 Back Pockets
Fullface zipper
Security reflex technology with reflective elements
Ergonomic Fit Women Project
Ideal for Summer: 18-30 º C
Cycling jacket Ale Rumbles
This women's jacket is the perfect garment for windy days: Maximum wind-proof and waterproof protection for light rain. In addition this jacket is very breathable, which favors the fast drying of sweat preventing the rider from being soaked.
The J-Stability System Technology applied at the waist hem that will keep it fixed in place
Full suspension anatomical grips.
Fullface zipper
Alé Women's long rumbles
This model stands out mainly because of its high level of breathability and protection it offers. Its design is focused on providing the best comfort on the bike.
The long-ass cycling Ale rumbles for women features flat seams and elastic strap s (breathable mesh fabric). In addition, in the area of the legs has been added a band with tweezers that will help the to remain fixed in place.
In the rear, this front has some inserts that will provide flexibility and comfort.
Socks Alé rumbles-women cyclists
This model of socks has been manufactured with very breathable material providing a good ventilation of the feet. In addition the fabric used ensures a good fit in the different parts of the feet. Alé rumbles socks are high cane.