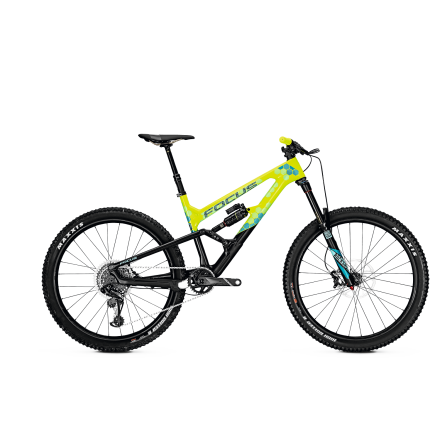 Full suspension Mountain bike Focus Sam 2018 for Enduro
Focus presents its new bet for one of the disciplines star of mountain biking: the Enduro. The Focus Sam 2018 MTB bike has a beautiful aesthetic, which goes hand in hand with high performance. As you can see, we are in front of a high-end model, available in 3 different assemblies (all with rear shock absorber – full suspension -): 2 carbon models and 1 aluminum.
In this way, the rider can choose the one that best suits their characteristics and ambitions. As for the travel of the suspensions they move around 160-170 millimeters, ideal for downhill and jumps.
Entering the design of the frame of the Focus Sam we can highlight its great robustness, ideal to withstand the stresses produced by the terrain. The rear triangle that includes the shock absorber is very compact, and helps maintain a good traction-absorption ratio in irregular areas. In addition, its geometry is focused on Enduro. It has optimized angles to maintain stability in roads and technical areas, especially with a lot of unevenness. Thus, an exquisite control of the line drawn by the pilot is achieved, and consequently, gain of time. Other technologies Bike MTB / Mountain Bike Focus Sam
To increase the rigidity a BB Pressfit 30 BB bracket is incorporated, with the most resistant joints. It is a new system that adds the best of each one. The steering tube has a conical shape, which after several studies the German brand has observed that it maintains the resistance for a lower weight. Also at the rear it has been emphasized to avoid losing energy when the cyclist stands up. For this, they have created the Twin Bearing System, which compensates the lateral forces for a cleaner trajectory.
For a cleaner design the guiding of the cables is internal, with a very intuitive input and output. Thus, the assembly is simplified and its useful life is extended. Finally, the Focus Sam has 3 assemblies: C SL, C PRO and LITE. The Lite is made of aluminum. The distribution of material of its conical tubes is simple: in the areas that receive more impacts and torsions the thickness has increased and decreased in the others.
Full suspension Mountain bike Focus Sam 2018 for Enduro /
Focus
From
4,799.01 EUR
to
7,899 EUR