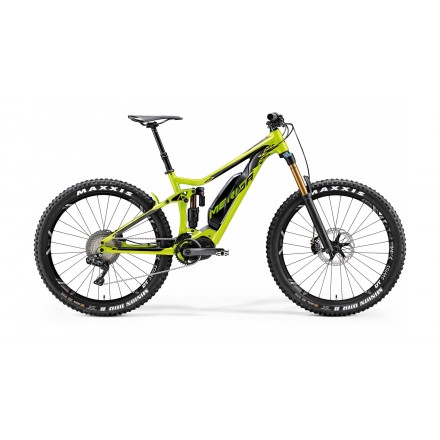 Electric bicycle MERIDA E-ONE SIXTY 800 and 900
The MERIDA E-one SIXTY 800 2018 electric bike is a sturdy and manageable bike with a dream suspension. Everything you ever wanted on a mountain bike, brought from Merida's hand get yours!
Fork: RockShox YARI RFC 29 "/ ' 5 + Boost
Shimano CRE80-B 34D
Levers change: Shimano SLX 11 speed
Brake: Shimano SLX Ice 203/180mm
Rear derailleur: Shimano XT GS Shadow +
Derailleur: Shimano XT 11-46 11 speeds
Wheels: Merida Expert TP + Deore Hubs
Roofs: Maxxis DHR II .5 x .8
Dropper seatpost: RockShox Reverb Stealth 30.9
Battery and Motor: Shimano E8010 500Wh and Shimano E8000
Display Shimano E8000
MTB electric Bike Merida One Sixty 2017 Enduro and All Mountain
All the fun of a normal mountain bike minus the need to have to squeeze you to the fullest; This is the new Merida One Sixty Electric. The cyclist will find in her the perfect ally for her harder and funnier routes as she keeps all the features of her sister without a motor. The series has a Shimano motor, which acts in a controlled manner and according to your needs. It is available in 3 models of .5 ", which vary its quality according to the price you decide to spend.
The geometry of this bicycle consists of a wide distance between wheel axles to improve the stability in technical zones. Its suspension system has been remodeled, and it works by means of a new pivot that allows to better take advantage of the rear travel range. In addition, it has been achieved that is always in tension, to be activated with greater sensitivity to potholes. As far as the fork is concerned, its wide range will make you want to face downhills at all times.
The Merida E-One Sixty has a wide handlebar with a short power; This translates into much more control and Manioabrilidad on the front wheel. So it's easier to choose the right trace at all times. The transmission Shimano XT and SLX, characterized by its excellent quality/price, does not disappoint. The only dish combined with the 11-46 sprockets offers a range of developments more than enough. Finally, if we talk about Enduro cycling is essential a good dropper seatpost and here you trust the Rockshox Reverb. In short, a high quality electric bike, with reliable components and focused on the most adicitvas modalities.
Bike Merida Electric MTB/MOUNTAIN BICYCLE ONE SIXTY 800/900 2018 /
Merida
From
4,999.01 EUR
to
5,849.1 EUR