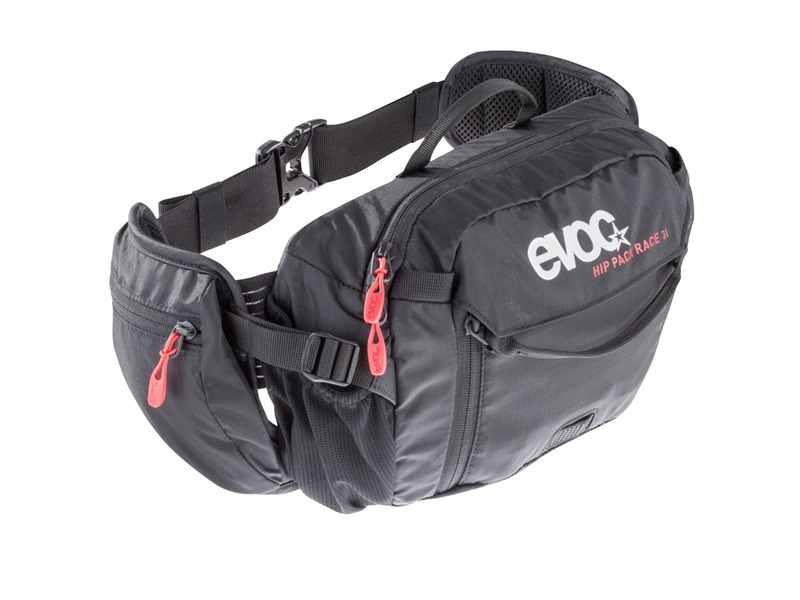 Hydration Hip Belt Evoc - 3 Liters volume - 1.5 liters water - MTB/Mountain Bike
The EVOC Hip Pack Race bag is the solution for those riders who want a safe and lightweight hydration and storage system. It is designed for routes or short training, since its advantage lies in the lower weight and surface compared to a standard hydration pack. However, it must also be said that water capacity is lower and fewer objects can be carried. It is perfect for any form of MTB cycling and its total volume is 3 liters. Features EVOC Hip Pack Race 3L Belt
In reference to its design we can highlight the excellent integration of pockets and spaces to store your belongings. In spite of being a small and discreet belt in EVOC have wanted to make the most of its surface. Thus, it incorporates a bag of water of 1.5 liters very well cooled, that will be useful in hot days on the bicycle. In the outside area also includes compartments for tools, bars and gels and the telephone. In addition, the side grille allows to hold the drum in comfort.
Inspired by its attributes, the EVOC Hip Pack Race belt has an efficient ventilation system. This is thanks to the use of fine and breathable materials, such as Air Mesh and Venti Flap system. This allows to create a constant air flow with the back of the cyclist and regulate their distance. It is useful to loosen the pressure on prolonged climbs with your bicycle for greater circulation and on the downs tighten it for a stable hold. Another technology is the Air Circulation, which cools the area of ​​the kidneys to eliminate any discomfort that may be caused.
The Air Flow Contact system is responsible for improving the comfort of the waistband. It evenly distributes its weight, so that it is distributed along the lumbar area. Therefore, you can demand the bicycle on top of you without your back being resentful. Other information EVO Hip Pack Race
Weight: 350 grams.
Colors: green, black, red.
RipStop 210D nylon outer fabric, which increases shelf life and has water repellent properties.
* In Core Sport Team Company S.L. We are not responsible for changes in the products on the final price.