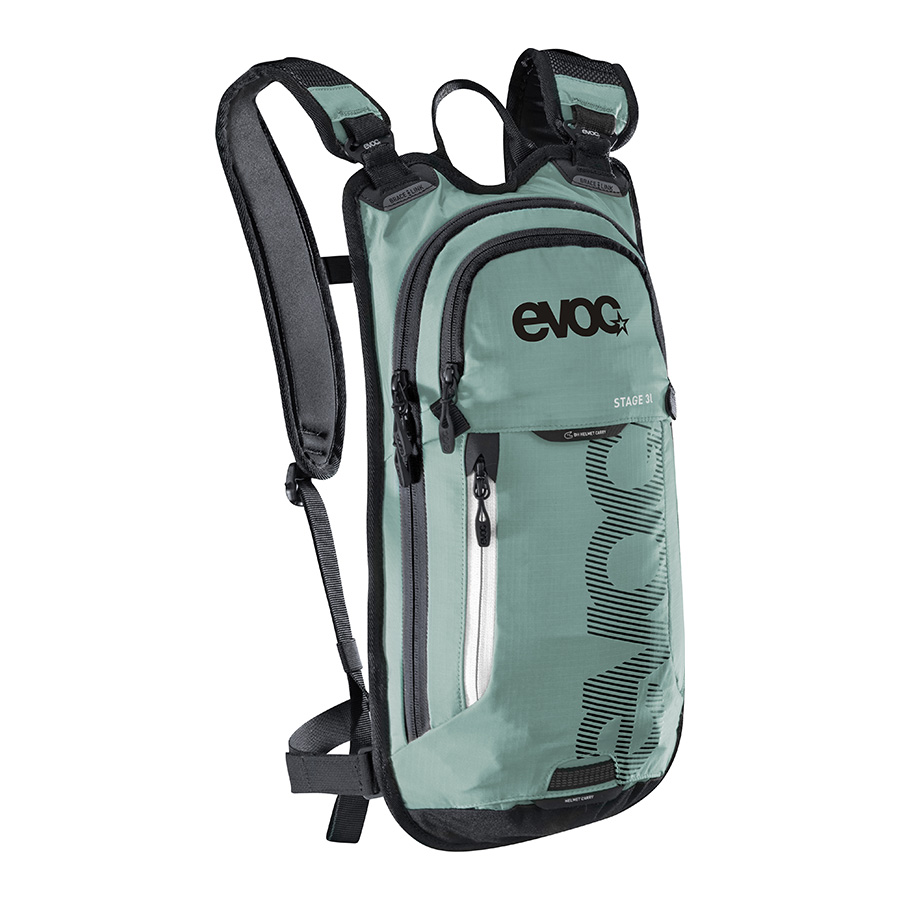 The prestigious brand EVOC introduces us to its new model of EVOC Stage hydration backpack, which can be found in 3, 6, 12 and 18 litres of total capacity . With the Stage, the rider can choose which backpack is best suited to your needs and therefore what you need to go out and train.
The different versions of EVOC Stage Hydration backpack are very compact, lightweight and functional models so that the rider can train with complete comfort, and having a great freedom of movement.
Features of EVOC STAGE hydration Backpack
The EVOC Stage Hydration Backpack is an essential element when going out to train with the mountain bike. With the Evoc Stage, the rider will be able to store everything necessary to be able to train with total comfort.
The versions 3 and 6 litres have a hydraulic tank of liters while the 12 and 18 are compatible with hydraulic tank of 3 litres, although they do not incorporate it. The four models of hydration backpacks have a rear light clip and a helmet-designed support and protections.
The EVOC Stage hydration backpack has different storage compartments, one of which has been padded by the inside so that the rider can keep the sunglasses or mobile, so that they do not break or rallen during Training. In addition, it also incorporates a pocket for the tools.
Expert opinion: Backpack EVOC STAGE 3 liters, 6 liters, 12 liters and 18 liters
With the different versions of 3, 6, 12 and 18 litres of capacity of the model of hydration backpack EVOC Stage, the rider will be able to go out to train taking with him the measure that best goes and having everything necessary to perform the best training.
What do we know about the EVOC brand?
EVOC is a backpack brand specializing in extreme sports.
EVOC was launched as a company years ago when its founders, the brand's founders, began to imagine and create backpacks that would cover their own needs. His idea is to manufacture high quality backpacks that are very functional and so they did. The last thing a pilot can doubt is about the quality of his team. It wasn't long before other pilots asked for their products, and what started as an idea, I end up becoming a company with time.
Evoc Hydration packs-comfort and protection
EVOC backpacks are specially designed for the most demanding athletes: with special storage pockets, back protectors, of various sizes and models and especially with different capacities of internal hydration bags and with "hooks" Special for the helmet and/or protections of the riders.
In the search engine of CoreBicycle cycling products you will find all the cycling equipment you need for yourself and your bike. Don't miss it!
* Core Sport Team Company S.L. is not responsible for the failures in the technical specifications or any other nature that affects the products. Check with the final store before making your purchase.
Hydration Backpacks Evoc Stage-3Litros, 6Litros, 12Litros and 18Litros /
Evoc
From
64.99 EUR
to
139.99 EUR