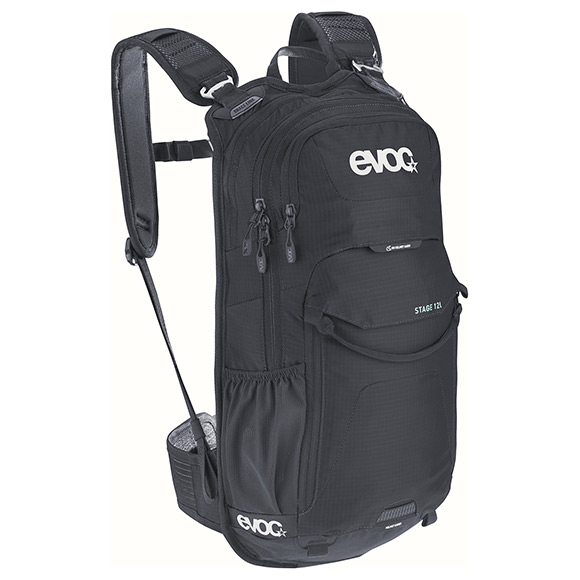 EVOC Stage 12l-New 2017 hydration backpack for Enduro/downhill/cross-XC
The brand EVOC presents us for this new cycling season 2017 the new hydration backpack Stage, which has a total capacity of 12 liters and has been designed for MTB Bikers (Downhill/DH/downhill, Cross/XC and Enduro). The EVOC Stage backpack of 12 liters, being the median measure of this saga, is ideal to go out with the bike as it will allow the cyclist to carry all those accessories, tools and spare parts that may need. This cycling technical Backpack also has a very light construction, so that it is not a hassle for the cyclist to wear it. .
The Brace Link strips of the backpack EVOC Stage 12 L, guarantee a great feeling of aerodynamics and comfort as they will adapt to the width of the rider's shoulders. This will be because the strips have been made with anti friction material and provide a great ventilation.
The design of this hydration backpack has been made so that the weight is not concentrated in a single place but is distributed in the best way, thus ensuring the rider greater comfort.
To give the rider a plus of comfort during training with the bicycle, this EVOC brand hydration backpack incorporates Airo Flex aeration Systems and Air Flow Contact System technology. The first, allows some draughts to be created by the skin thus avoiding such annoying moisture; The Air Flow Contact System Technology ensures a fast drying of the sweat in the back area.
As the intention of EVOC is to offer the rider the maximum facilities when going out to train with the bike, this backpack has been built of hydration so that it is fully compatible with the vast majority of protective collars/neck brace s that We are currently in the market. In addition, it incorporates a clip that allows to hook the helmet and the protection s of the rider in a quick and safe way.
Technical characteristics of the hydration backpack EVOC Stage 12 litres
Backpack designed for MTB cyclists: Enduro, downhill, cross country
Total Capacity: 12 L.
Weight: 900 grams.
Size: 28 cm x 50 cm x 9 cm.
Compatible with 3 litre water bag (not included).
incorporates waterproof cover.
Numerous pockets for different uses (mobile, sunglasses, maps..)
Brace Linch adjustable straps.
Airo Flex aeration System.
Keychain.
It allows to attach the protections/helmet.
* Core Sport Team Company S.L. is not responsible for the failures in the technical specifications or any other nature that affects the products. Check with the final store before making your purchase.
EVOC Stage Hydration Backpack 12 litres 2017 /
Evoc
From
99.95 EUR
to
129.99 EUR