EVOC Hydration Pack backpacks with back protector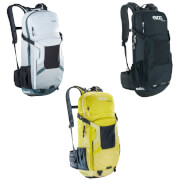 EVOC hydration backpacks with dorsal protector
Backpacks in 1 are on the rise and EVOC (a brand of well-known prestige in the world of backpack manufacturing/cycling bags) is leading the market, at least in terms of variety of options: different colors, different capacities and for different Functions are the hydration packs that EVOC offers us.
We can find backpacks of 10 liters, 12 liters, 18 liters, 20 liters, 22 liters and up to 30 litres. It all depends on the size and the model.
Inner hydration bags are usually between and 3 litres.
In addition there are countless colors.
The most outstanding models of EVOC hydration packs with Chest are as follows:
Read More