Ergon BX3 Hydration Packs-Backpack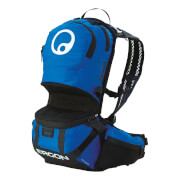 Ergon BX3 Hydration Backpack – Ideal for your MTB marathon routes
Stop looking for more. The Ergon BX3 Hydration backpack arrives. A model focused on helping us to always have good water levels in the body. At the same time, it meets many more features than you can imagine. It is perfect to meet the basic necessities of your day to day. It specializes in long and warm routes with your mountain bike, and modalities like the All Mountain or marathon.
Entering in its technology, we can highlight the adaptive Carrier. It manages to distribute equally the weight on the back of the rider, maintain a constant grip and prevent it from moving sideways. This helps to improve the comfort in progress. It also consists of a state-of-the-art regulation system; To achieve a full adjustment to each rider.
The Ergon BX3 Hydration Backpack also has the possibility to hold the helmet. This is thanks to the straps on the front, which by means of powerful hooks help you to air your head.
It has a total capacity of 19 liters and a volume of the water bag of 3 litres. The latter has improved its cooling capacity and keeps the temperature much better. Includes lots of internal and external pockets , where you will be easy to access to store your objects. It is available in sizes: S (for Minors of 175cm) and L (for older than 175cm). Finally, add that your manufacture is made with nylon and polyester. colors: Blue, red, black, grey and green.